The festive spirit and good food around can make the successful management of one's calorie intake tough, particularly in those living with diabetes. We will share the details on how to cure Cure Diabetes Naturally with the combination of Homeo and Herbal Extracts.
Research suggests that during winter, people living with diabetes tend to have higher HbA1c levels than during the warmer months.
When liver fails to performs these functions properly then the entire burden goes on insulin. To complete the need of insulin in body pancreas gland responsible for insulin production also got affected.
Often referred to by doctors as diabetes mellitus.
Describes a group of metabolic diseases in which the person also has high blood glucose.
Either because insulin production is inadequate, or because the body's cells do not respond properly to insulin, or both.
Patients with high blood sugar will typically experience frequent urination, they will become increasingly thirsty and hungry.
In result, insulin glands become weak and high glucose level in blood become the obvious outcome.
In this video you watch & learn how according to WHO report Delhi may become a city of Heart Diseases & Diabetes in near future. Diabetes will be discussed briefly and also heart diseases will also be discussed.
Here in this video Dr. R K Aggarwal today starts with a Sanskrit slokh. 
"Subhen karmna sokhyam, dukham papen karmna, kratam falati sarwatra nakrit bhujyat kwachit".
This means in Hindi – sukh (acche) karyo se hi sukh ki utpatti hoti hai aur bure karyo se dukh ki utpatti hoti hai aur kuch bhi karya fal dene wala hota hai.
Accha karenge accha fal milega bura karenge bura fal milega, aur jo karma hi nahi karta wo kuch nahi bhogta hai"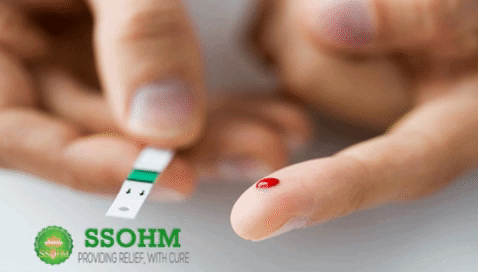 At SSOHM,
Dr. R.K Aggarwal provides treatment of diabetes with super diabetes cure and with liver and stomach treatment to remove it from root.